Today has been a long Friday; nearing an another weekend. What has been long due (a week long due) is the trip to Srisailam last weekend (sat-sun). Soon after coming back, week started and there was no space for leisure writing. Honestly – today is also not leisurely as such. Nevertheless, let's catch up about the trip to srisailam.
Srisailam is known for its Lord Shiv template and the dam. My brother had planned the trip along with 3 of his friends. so – total 5 families (including my family) were travelling. My brother was looking into booking a small bus – 20 seater – mazda kind. He could find one @ INR 16 per km with min. 300km per day plus driver allowance of INR 350/- per day. That came to roughly INR 10k for two days trip. He booked the bus. We had the alternative to drive into 3-4 cars.
Little bit on the car vs bus for the trip. Srisailam roughly clocks 230-240km from Hyderabad. Cars would have cost in petrol little bit more if we take 4 cars. Cars would be less jerky while bus kept giving vibration massage to the body even when we were on reasonably good road. Bus was in good condition but certainly it's not Volvo. Car drive would have been driving pleasure on ORR stretch of the journey but won't be fun beyond that. Especially the 70-80km ghat road drive won't be pleasure to drive for most beings. Bus gave plenty of room for kids to sleep, dance, breath. since we were only 16 members including kids – they could sleep at times taking a full birth. Bus could run at reasonably ok speed but not on par with car. so, it took 1-2 longer.
overall – for the crowd we had – bus worked out ok. If we could have worked out a bus with better suspension – it would have been ideal.
As instructed – we were ready for pickup at 6:15am. First surprise – DRIVER did not wake up on time. He woke up when my brother called him. With that, we started from our place at roughly 7:30am. We have to do one more pick up point for rest of us and were on ORR by roughly by 9am. I have done the couple of hours research for the drive. google map gives reasonably simple and good route for this. All one need to remember is to take exit 14 on ORR and get on srisailam highway. Thereafter, simply stay on srisailam highway (refered as SH in google route). That's it.
I have taken light breakfast. but not all in the group. so, we were looking for place to breakfast. Bus need to fill the tank as well. On ORR exit 14, we took left into town – filled the tank in the nearby bunk. Petrol pump guy told us that a hut kind – dosa/idly place – on this road. This is almost close to the left turn on town road after ORR exit 14. There was good crowd of people eating idly, dosa, vadas. We also took a rough count, and took our tokens. Place was decent, and food ok. Finished our breakfast and got back on srisailam highway which is right turn after ORR exit 14. I do not exactly remember the turn. need to get on srisailam highway here.
Soon on the highway, we saw engineering college, a resort banyan retreat on the highway. At the beginning of the highway, there was works for the divider. It may get built for the future. but currently it is two lane highway with no divider. so, night driving should certainly be avoided.
There after, we took no break and straight stop at Dhindi project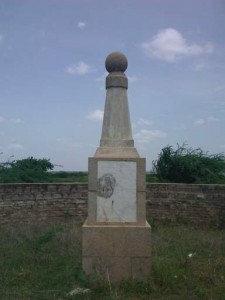 on seeing a dam like wall structure on the road side. There was a stone marking its name 'Dhindi Project'. Otherwise, it was hard to recognize what that was. Wall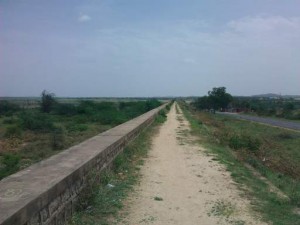 has decent height but there was no water there. Nice view. There was a small shop selling chips, colas etc. We took some, and moved on.
Soon,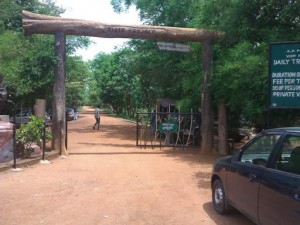 forest area started; and we started seeing trees on either side of the road. We stopped on the marking of 'Tiger Project' at Farahabad.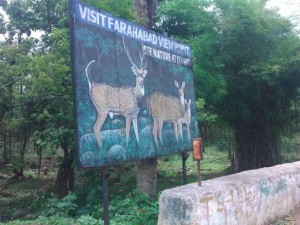 We did not want to take long break here so that we can reach Srisailam in time. We inquired about the place; it runs safari rides up to 4PM; private vehicles are not allowed; the ride organizer have commander jeeps and cost for 6 person INR 800/- ; trip lasts for 1-1:30 hrs. We decided to take safari ride in the return route. more on this – little later.
Kids wanted to sit on top of the tiger statue here. we took some snaps and moved. Srisailamhighway – I found to be very straight (no curves) until we hit ghat road. For long long, we could see road straight. Traffic was also sparse. Good that not many are driving here. It saves the nature. Where ever tourism increases, nature decreases generally.
Well – since the post was going long – I have to break here. Today, I wanted to finish this and post. It's good that I had written some while everything is fresh in memory; slowly the level of detail evaporates. I will try to capture as much I could still remember.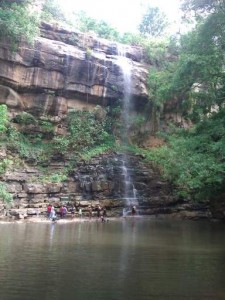 We came to know that there is a good waterfall before we reach srisailam. It is called – MallelaTheertham waterfall. It is around 8-9km diversion from the highway route to srisailam and the road is also mud road. There was enough crowd we saw at the waterfall. Whether the waterfall is worth the extra time & diversion, well it depends. If you have time, it's worth a visit. Good thing about this is it is in jungle/nature surroundings.
Few things about the place:
be careful. the water is quite deep. Unless you are

expert swimmer, it is good not to swim across to go to below the waterfall.

There is a pathway from the rocks to get below the waterfall. It is steep but doable. With kids, need to be extra careful. The rocks below the waterfall – are slippery and adventuring there with a kid in lap etc. may not be safe.
If you ever go there – place will look for your respect for the sanctity of the place; no plastic pl.
Old ladies (from local village) sell some berry kind of fruit for INR 10/-. It is not much tasty. but you may want to buy to give it a try and/or support to the local old ladies.
We had one daring swimmer in the group. He confidently swim across. He later narrated that even at  side, he has to "pull himself" up as ground was deep. My son was adamant to get below the waterfall. Hence, I discovered the rocky pathway to get below the waterfall. My daughter was also helped by one lady under the waterfall to take a shower of the waterfall.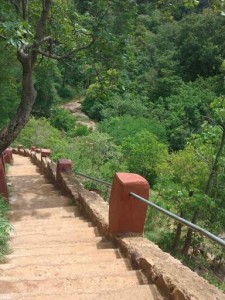 We ended up spending hour+ here. One more thing – after parking the vehicle – there is around 250 odd steps to get to the waterfall.
We took a stroll back to the bus; crossed the mud road, and stopped immediately after getting to the highway for Lunch at nearby dhaba.
I need to break here and get back home. There is 1.5 days worth of more trip to discuss.  More as soon as I can get back.
I was sharing in the wordpress youmayneedthis blog earlier. This being the first post – on its domain – is special. Domain is new but the idea remains same – that is – about things that you may need to do some day. In the spirit of sharing – I look forward to continue sharing tit bits of things I do, and you may need to do some day.