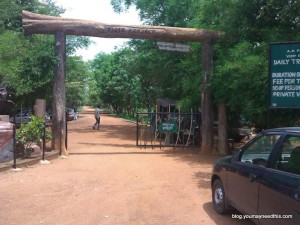 This is likely the final post on Srisailam Trip. After the fun of rope way and boating in the Krishna river, we started straight on our return journey to Hyderabad and wanted to take safari ride in the Farahabad forest area. We did not take any break and reached there by around 1-2 pm. There are commander jeeps for the safari ride. They had taken other people in the forest. We need to wait.
The staff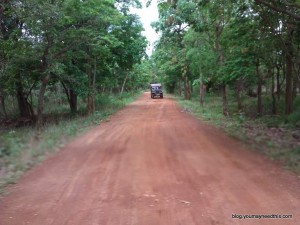 gave us option to take our bus into the forest. The road is mud road; bus driver was scared and told us to not take the bus. Bus would have taken the toll of the road; the mud road is not as nice during the whole 1 hr journey. secondly, there is no discount to take your vehicle; we need to still give the full price of the package. We decided to wait and go in two jeeps.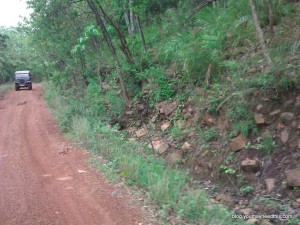 In the meanwhile, kids took some kurkure etc. from the snacks shop out there. We had exhausted our mineral water 20l bottle by now. My brother has loaded one 20l bottle in the bus. It costed us INR 30-40. Now, we were purchasing mineral water for INR 25 per liter. For a bigger group, that big bottle saved money and time. We took little walk on the road also. In about half hour, jeeps returned and we boarded two jeeps to get into the jungle. By this time, 2-3 more groups have come and waiting. It is good to probably do this in morning or early afternoon. By evening – traffic of visitors increases. Afair, it is open up to 4 pm.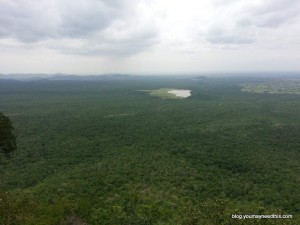 I had very low expectation of the safari – to see wild life. That helped. We had cited only few deer at one place; that is it. The climax of the safari ride is a hill top point; From here – one can have 180d wide open view of the valley. We spent order of half hour here; took snaps. Everyone wanted their family;solo pictures here with the nature background. There exists remains of then AP tourism hotel which said to be have been blown by naxals; only pillars remain now.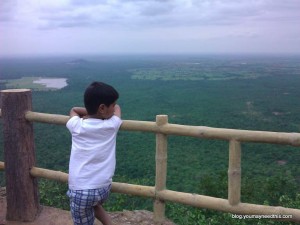 There is great wind blowing and view is very picturistic. This view point was the 'paisa wasul' for the safari trip.
We stopped once more for lunch after the safari on the way back. Nobody had any expectation for the quality of lunch. We were also late for the lunch time nearly past 3 pm. We got some daal; rice; and once bowl of vegetable biryani; that was the last bowl dhaba had. Everyone wanted more biryani but that was over! We were looking forward to Hyderabad/home for decent food. My belly was already giving me signals for the abuse. I was careful in eating this last meal. Btw, I forgot to mention the local zeera juice drinks we had in one of the dhabas. They are local made; they were chilled; from outside the bottle resembled a beer bottle; some of us kept away thinking local beer; one of us tried since pepsi bottles were taken by kids and over. It taste pretty good and thereafter we took nearly 3-4 zeera drinks.
Most of us were tired and took short;long naps during the journey after that. Some of us befriended during this journey. Once we got onto ORR; it was farewell time with in the group. Finance also needs to be settled as biggest expense was bus that needs to be settled by my brother who will be dropped last by the bus. It was interesting that it got settled pretty quickly with everyone reporting their share to one person. We reached our first drop point where everyone bid farewell to each other. By then – we have exchanged email ids; promised to stay in touch; ladies gossiped their personal matters; gents talked over professional matters; job etc. Interestingly – until the last hour of the journey – some of us who has met first time during the travel (friend of friend) – have not dived into each others job, what do you do etc. I promised to share the pictures on skydrive with others; same others did.
It has been order of 6 weeks since the travel. I wanted to share the trip in detail then; it got done today. I have been long waiting to host the blog on its own domain. I decided to start it with this trip report. Today – it gets concluded. Net net – short, sweet, exhausting, but nice and memorable trip.
Did you travel to Srisailam from hyderabad? How was your experience?