I talked about our Srisailam trip few days back, and was out of time to finish it. Let's continue from where we left. It is likely that today's also it does not get finished.
After a long break at the MallelaTheertham waterfall, we stopped at a Dhaba immediately after getting back on the srisailam highway. I forget it's name – Family dhaba or something like that. You can not expect great food. but in the dhaba, even daal/roti or rice, sambar is also not eatable. They did not even heat the sambar and served cold. We have such experience next day also during return journey but better than this. Dhabas on the road – seem to be no-go place. May be if you reach during the exact lunch hours – 1-2PM – they – at least – serve hot food.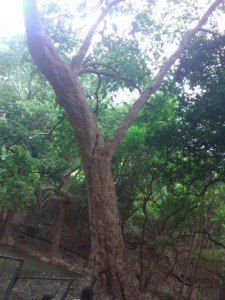 I forgot to mention some of the giant trees at MallelaTheertham waterfall. They were simply huge and awesome.
Soon we entered that ghat roads; and eagerly awaited to reach Srisailam. It took 2hrs+ to cross ghat roads. They seem to not ending; mountain up, down, and again up. We kind of entered Srisailam town by evening 6PM; went straight to the devasthanam office to get the rooms; My brother had booked the rooms online through their site. Booking two weeks in advance worked for us.
There are two kinds of rooms. Non-ac cottages, and AC delux rooms. AC delux rooms are accommodated in the AP tourism hotel which is next to the rope-way station at corner of the hill. Some of us booked the AC rooms. I did not check with them about the room view. but the hotel building is located at the corner of the hill. My brother tried booking a couple of days later and could only get through the NON-AC cottage. Interestingly – the cottage accommodation had two rooms, and a dining area. Hence, two of us can get into two room in the same cottage. Since we have already booked the 2 cottages, we got the driver to stay there.
The devasthanam market place serves dinner in multiple shops. All of them seem to be ok. but they also operate very much during 7-10PM dinner hours. We decided to go for darshan in night itself since we wanted to take rope way and forest safari on the way back next day. There was very little line as visible from outside in the free lane. Some of us were particular about INR 100/- line and went straight to buy tickets. later we realized that the line inside the temple complex would have at least taken 1 hr. We got done in the INR 100/- line in 15 minutes or less.
Another thing we found that women is supposed to have head covered with dupatta. so, some of the ladies need to take turns using the friend's dupatta. There is nice paid prasadam laddus available. We got some. There is another temple after the main deity temple. The exit of that temple is different than the entry. That got me waiting for my wife at entry gate for around half hour and later decided to go out and check. There was another old man waiting for his wife there who would have exited from other gate. Further, as per rule mobile phones are not allowed inside. That may be challenging in the scenario.
Net net, we had nice darshan in short time. It was dinner time but it was almost 10PM. We got into the shop at the junction. We can sense that the staff was in hurry to close down. He wanted orders quick. I found that chapati was served hot; so just got that. Few minutes later – chapati was over ! Good to just follow dinner timings if you want to have comfortable dinner. Comparatively, we had nice dinner (after the lunch) and ready to crash.
Our bus dropped us at the cottage and the hotel. and had a sound sleep till down. Woke up straight at 6AM. We had planned to go for rope-way in the morning after breakfast. Let's talk about it next day. For now, I need to get back to work.