In last two post, I talked about the journey from hyderabad to Srisailam, visiting places on the way and darshan at Srisailam. That was our first day of the travel. Second day, we woke at around 6:30 am and got ready quickly in 1 hrs. We reached other hotel where rest of us were staying, for breakfast. Breakfast is just OK there. Not much choice as such.
Our driver again was sleeping and we walked to the other hotel. As soon we reached there, we came to know that rooms needs to be vacated at checkout time of 8 am within a grace period of half hour. Otherwise, you may land up paying one more day of charges. Like Tirupati, this place also requires clearance by the local staff and signature on the room advance payment receipt. After that, you need to go to the CRO (central reception office) to get back the advance. We need to chase the staff for both the cottages. This process takes order of half hour. Regular tip expectation by the staff will also be there. We managed to get the checkout time of 8:30 am for both cottages. but our breakfast which was ordered at the hotel – went cold. We took whatever we can and moved to the rope-way starting point.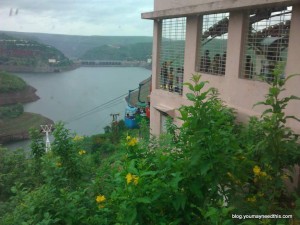 Rope-way takes down to the Srisailam dam. You can take up boating in the dam hold up area of the river; There was other choices of taking a long trip to 'Akkamahadevi' caves which is scheduled to take 3-4 hrs; I do not remember the other options. All options are available at the ticketing counter for the rope-way station. You need to selected the package along with rope-way down. Caves ride would likely be good but we did not have time to do that. It needs order of a half to full day. We decided to take boat ride package and it cost around INR 250 AFAIR per adult; for children (5-12 years), there is lower price tag.
Rope-way has a queue and waiting well kept lounge. It took order of half hour of waiting there.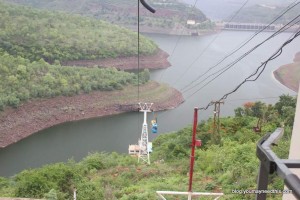 I took some picture during the waiting time and savored the nature beauty from the hill top. It looks beautiful and wide angel view from there. Each rope way cabin hosts around 4 people. We were roughly 16 people including kids. We managed to sit into cabins with 1-2 families per cabin. There is not much time to decide after the cabin arrives since rope way is running non-stop. Within no time, you are down. so, enjoy the 2-5 minutes you in the cabin. I experienced a point in between the two stations where there is pin drop silence; only nature high density oxygen air; and sound – That moment will stick in memory for long; It lasted only for 20-30 seconds.
Rope-way as much is not likely the latest technology;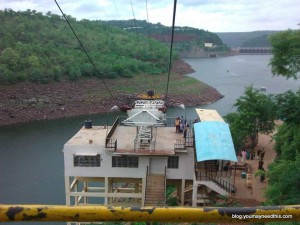 I am not the best person to comment on that since I have only traveled 2-3 rope-ways; one in ambaji temple near Palanpur, Gujurat and one more somewhere. but decent. It saves long ghat travel and get your down in less than 5 minutes; awesome. We took snaps of the neighbor cabins; cheered children; enjoyed nature; reached the destination station. There is order of 400m of hill climb down before you hit the boating station from the ropeway station. The road surprisingly does not have steps! need to walk carefully. Old people with walking limitation need to be careful here. On the other side, you can enjoy the glass of fresh buttermilk for INR 10/-, some jaal muri – there are many vendors out there and very friendly; also lime soda.
People with boat package tickets are given preference in boarding. That was nice.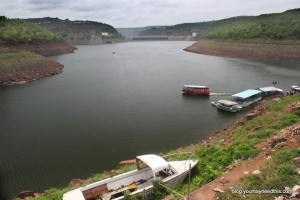 We took the best seats we thought. The boat went towards the dam gates, and round back to the station. It was nice 1hr plus boat ride. nice. On the back travel also, we enjoyed some jaal muri etc. Took rope-way back up.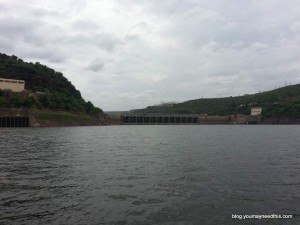 Overall, we all liked the rope-way and the boating in the dam hold up area in the morning hours. We were back up by roughly 12. I do think we missed the 2-3 boat journey to akkma devi but do not have personal account to say whether it is worth the time. may be next time.
srisailam trip is not YET over. We are yet left with the forest safari part. Need to get back to work. Let's get there another day.