Today's trip to botanical garden @ kondapur, Hyderabad was impromptu when we woke late to go to
Necklace road. Hence, we decided to visit there instead. I have gone there many times. It indeed needs a mention and things we like about it.
It's place providing breathing space midst the busy area of Kondapur & Gachibowli. Since the time we moved to kondapur, this garden has gone through quite a few changes for good and bad. The Good first. The maintenance of the garden has improved. Activities has been started for children. The Bad: Garden lost significant portion; that has been controversial and in news; I have not followed the happenings closely. but I came to know that there is hold order on the development work that is considered threat to the garden.
There is a nominal ticket INR 10/- and 5/- per adult and child-above-5 respectively. Entry for children below 5 is free. Regular morning walkers can get a monthly pass also. Park opens early morning and closes by 6PM. You need to park in the parking area on the opposite side of the road – in front of the main gate. There is a parking fee of INR 10/- for four wheeler.
Right after entry in the garden, there are little rabbits which my children love. They spent few minutes watching them, dropping leaves for the rabbits. There are 4-5 rabbits out there. For a first time visitor with children, this is typically the first stop. We typically move to the open area behind the cage which is wide open space with green grass. Children run around there. There are few up and downs. Keep moving from there, you hit area with a set of children activities.
The most used activity is a big Trampoline installed there.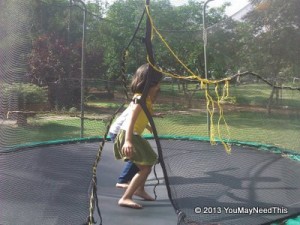 At a time, 3-6 children can play inside this comfortably. For my son, this has been attraction for the last two visits. They spend order of 10-20 minutes there. After that, I need to get them out to move to other areas. Another activity is rope mesh climbing. This can be used by children > 4 years. Child is given a safety support. which also helps him climb up the mesh. This is also fun activity and children find thrill of accomplishment when they touch the red ribbon at the top; Certainly they need the parent and friends encouragement to keep going up during first climb.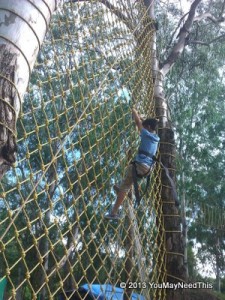 After first successful climb, my daughter wanted to do it again. I have to deny it multiple times to move on. She wanted to repeat the climb. She wanted to give up in the middle while on the first climb.
Apart from this, there are two other climbing activities but there are sparingly used afaik. There is a shooting area also (I think). I have not used it.
From here, we walked over to children play area.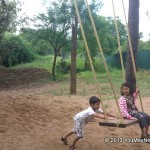 Children play area is not kept very clean. but still has some attraction for kids. There is a big mean really BIG swing. It is hung of two big trees. Even elders can swing.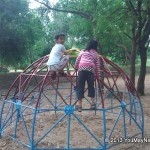 It is advisable to be used by 2-3 people at a time to keep it in good condition. It is still working though it is overloaded by visitors often. I would say this is the main attraction for elders in this area. Children can find slides, see-saws, merry-go-round, and two other kind of climbers. This is another area where we spend nearly 20-30 minutes.
Next we came back to area near main gate. On the right side, there are a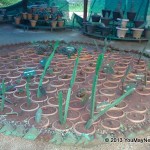 tortoise kind of concrete structure which houses various kind of cactus plants. Children do funny things. Instead of cactus, they found the pebbles in the nearby garden interesting. They picked some, threw some in the little pond area besides; it is formed by the rain water. I have to set limit. otherwise, they would have been at work to get all pebbles in the pond until evening! Next, they picked into the cactus housed in another room. All of them are under water.
Apart from this, my son loves this wooden bridge.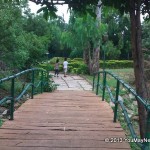 He wants to go across it whenever he reaches garden. We sat on tree made benches. There are people who are leaving leftover after eating there including plastic bags. It will certainly help if we can take our junk out along with us after enjoying the minutes midst nature.
In summary, if you are nature lover – this is a good place to explore. but good to get there in the weekends or morning/evening hours. your children will likely love the place. Give it a try. There is certainly more from my past visits like the rose garden, a big pond etc. there. but I need more time and words. For now, I need to get out. more next time.