Do you want to be happy, productive, reach your potential, be your best self? Answer is astounding yes.
How often do you deny yourself to be yourself? answer is — quite often.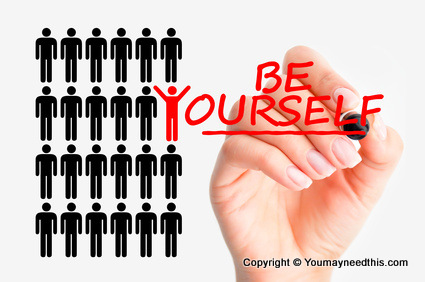 Reaching your potential starts with being yourself. That is when your interests and what you do – are aligned. That is when your emotions and you – embrace. It is what feels like aha or the eureka moment! What if more minutes of your daily life are eureka moments? It is certainly possible since it does not take much — to loose up and – be just yourself.
Well – if all of us – allow ourselves to be – just ourselves. Hell might loose open. Isn't it? Well – the answer is no. Being yourself does not mean – react & do whatever you think. It simply mean – you "facing" instead of "denying" – all your likes & dislikes (emotions). That gesture alone is enough to unlock your deep innate potential. It is enough – to connect at deeper level – with your unspoken inner voice – your emotions. Don't we see people pleading in tough negotiations & in heated discussion – "hear me out"? That deep inner voice – also require face time/acceptance and that is enough – to let it out – to get pass the emotion. You then clearly see the emotion & yourself as two separate things and connect with your self – the unbounded awareness, smile and power – that is your untapped potential.
Being yourself also means being mindful and also referred as being emotionally intelligent. That is your Ah moment when things can't be more clearer. You are face to face with the solution and working like an orchestra! It takes little bit time and patience – to get there.
Why not to deny?
No matter how much we deny – it exists within.
Accepting/facing will not do any harm to us – because what you are – nobody has power to change – even worst of your thoughts – can't !
Facing them will help separate you and your likes/dislikes and get over them!